13+ Inspirational DIY TV Stand Ideas for Your Room Home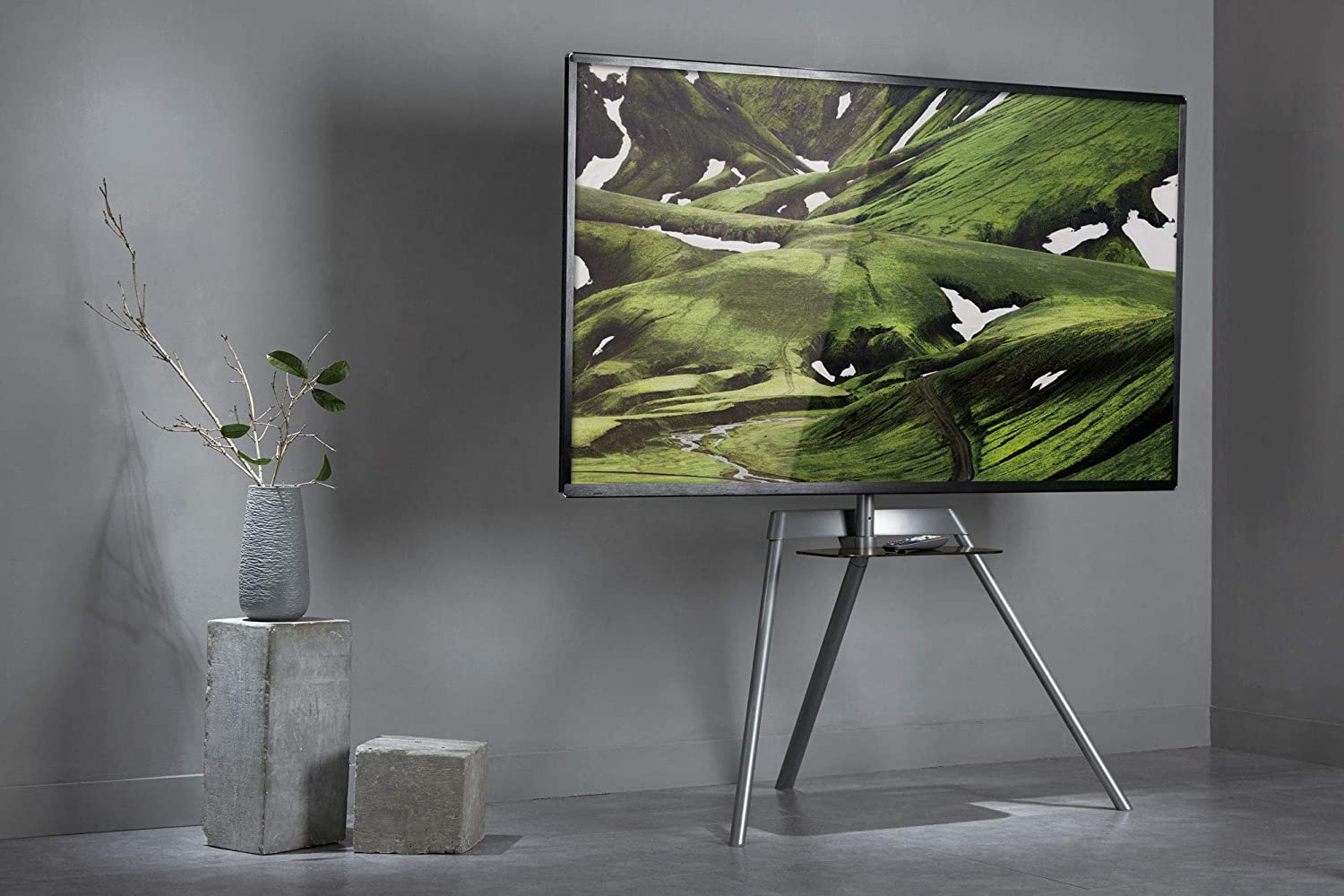 Enjoying your favorite TV program with family is a great way to release stress. To make it greater, consider making a DIY TV stand because it will add an upscale look to your TV as well as providing a better viewing pleasure without costing you a fortune.
1. Rustic TV Stand with Metal Wheels
Add the touch of rustic look in your living room with this TV stand. The liquid stain coats it well without overlapping the wood grain. The rustic look is accentuated with the wrought iron wheels and plates.
This TV stand also incorporates an additional storage solution. Just store your books on the shelves and stash some miscellaneous items in the wicker baskets to hold the clutter at bay.
2. Corner TV Stand
Do not let every nook and cranny lie dormant. Tap into one of the nooks of your living room and turn it into a great corner TV stand.
A corner TV stand is a top-notch choice when it comes to limited space because it works like a charm without gobbling up the remaining space. You just need to screw some boards on the wall to hold a DVD player.
3. Easel-Like TV Stand
Another great idea to fill in every corner of your room is by making this easel-like TV stand. Make sure you measure the boards thoroughly so the pyramid structure can fit in with the awkward corner perfectly.
Besides helping you get the best viewing pleasure, this TV stand also allows you to store some stuff. Furthermore, it can also make a pretty good adornment.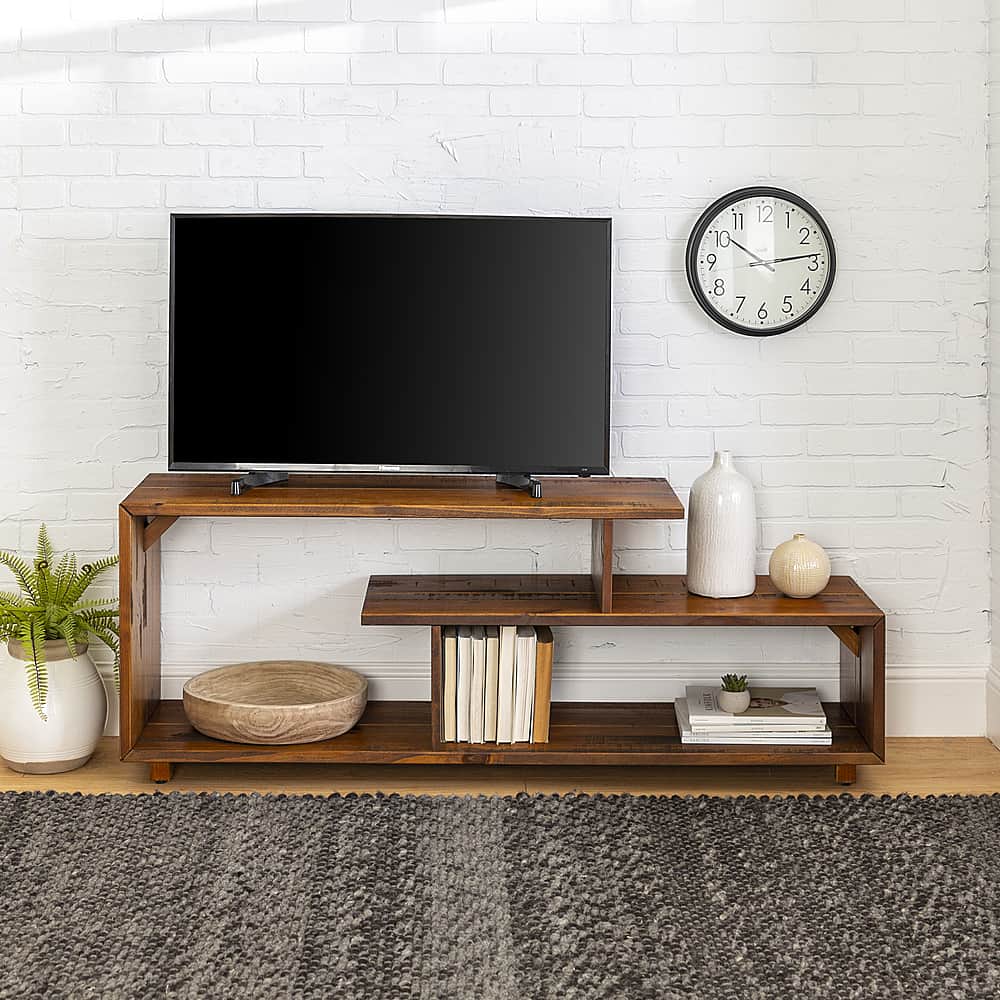 4. Stack the Crates Up
This TV stand has proven that doing a DIY project is not always arduous. And even if you are a novice, you can make a nice and functional one well. All you need to do is just getting three wooden crates.
To make it look nicer, try staining or painting the crates. After that, stack them up. You can also screw them together for the peace of mind.
5. Cube TV Stand from Wooden Crates
Why do you have to splurge out on a fancy cube if you can make one? It will help salting away your money especially if you are on a tight budget now.
To make this wonderful cube, get four wooden crates, sand them down, stain, and stack up to form a set of open shelves.
6. Modern Farmhouse TV Stand
A TV stand is not only a platform where you can put your TV. It is also a piece of furniture that complements the style of your house and adds a personality boost.
This TV stand enhances the modern farmhouse style thanks to the barn doors that infuses classic ambience to the room. The seaweed-shade finish matches the wall well, making them flow into one being.
7. Floating TV Stand
A floating TV stand can add an upscale look to your room and make it look modern. Besides, it can create the illusions of a more spacious room as it allows you to have free floor space.
8. Movable Easel TV Stand
If you are an avid painter, you are going to need this DIY TV stand. It is made out of a wooden easel which has been tweaked a little bit so it can be sturdy enough to hold your TV in place. It also features three casters that enable you to move it easily.
9. TV Stand with Electric Fireplace
As a place where you can gather and relax with your family, your living room has to have the ambience of warmth. You can make it happen by installing an electric fireplace in your TV stand.
Don't worry! The fireplace will not damage your TV as long as the heat output is less than 5000 BTU.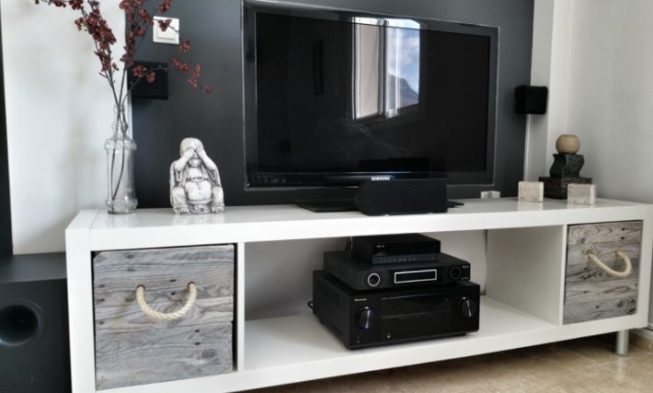 10. Black Ladder TV Stand
Have both TV stand and shelves without taking up a lot of space and making you short on cash with this one. Just up cycle two ladders and turn them into shelves by adding some boards. To make it look bold, consider applying black matte finish to it.
11. Simple TV Stand
This simple TV stand will be your great weekend project. Its simplicity focuses on its main goal – a platform that hosts your TV and DVD player. Therefore, it does not need any sophisticated design that may require more time to accomplish the project.
12. Luxurious TV Stand
Just because a DIY project, it does not mean you cannot make a luxurious TV stand like a professional. What makes this TV stand looks lavish is the clean-line edges and the recessed lights above the TV, not to mention the elegant wood veneer.
13. Mid-Century Modern TV Stand
A mid-century modern TV stand has to focus on function. That is why it tends to be simple with clean-line edges and wooden peg legs. The legs will raise the TV stand a few inches off the ground, which creates a sense of a larger room.
Those are 13 DIY TV stand ideas that may become the inspirations for your weekend projects. Doing the stand yourself will not only help in saving some bucks but also enable you to personalize it. Learn more about driveway paving ideas.