13 Beautiful Makeup Room Ideas, Organizer and Decorating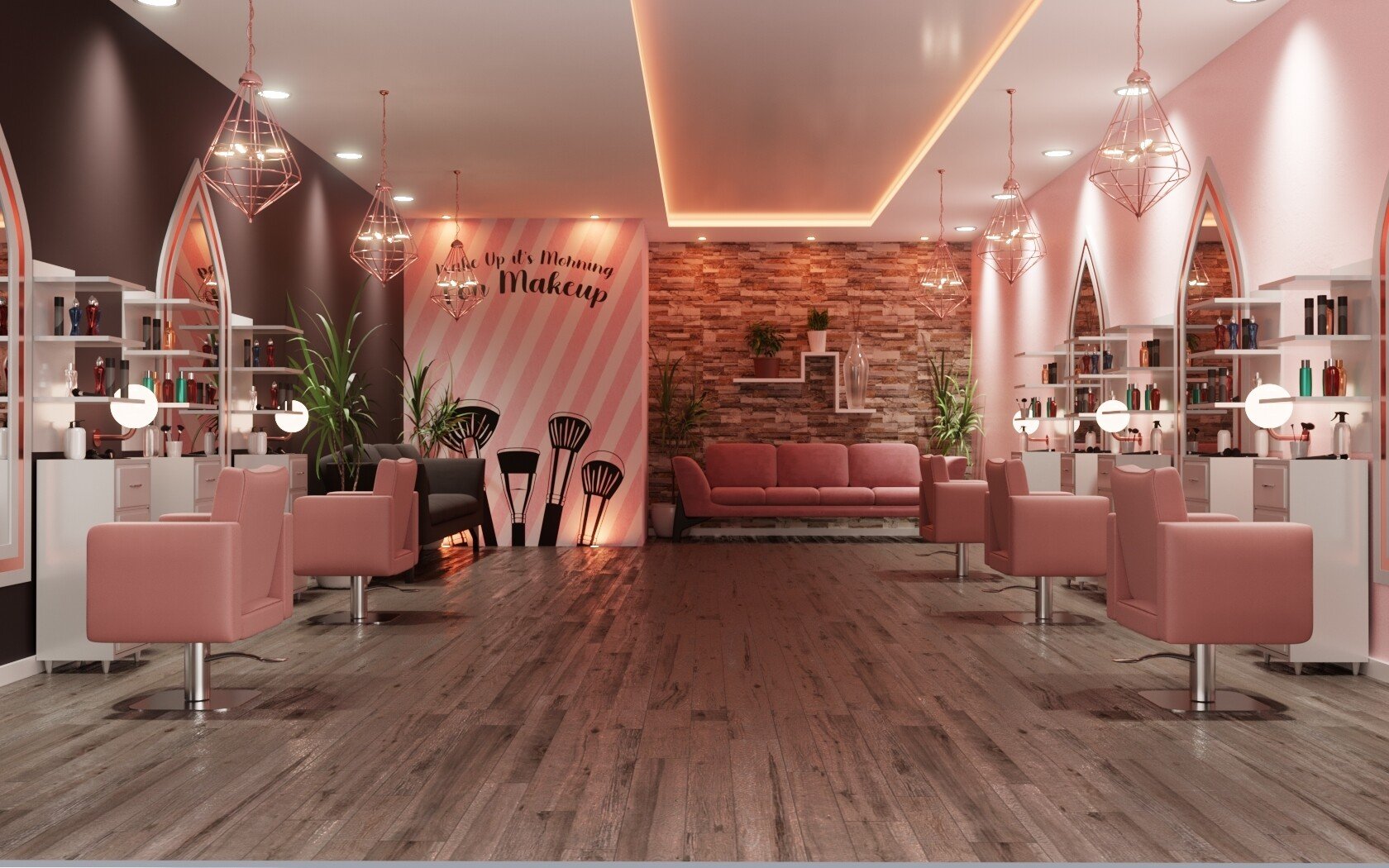 Your final checkpoint before going out to start the day might be the makeup room, right? Hence, having a somewhat mood-boosting one must be great. Regarding the matter, thankfully, there's a lot of doable makeup room ideas informed here and there on the internet.
We collect 13 best out of them and they are listed as follows. Check them out!
1. DIY Lighted Mirror
Yes, having a lighted mirror for your makeup desk wouldn't financially hurt if you know how to get one at an affordable price. Since buying a set of it would cost a lot, camouflaging your standard mirror with some string lights would also do. Hide the cord behind to have a wireless lighted mirror of your own.
The benefit of having one is you're aided greatly in detailing your appearance. It helps you to check minor imperfections, such as stray hairs and cakey foundation. It also helps with contouring the job done and getting a precise finish.
2. Jewelry Stand
A jewelry stand is required above the makeup desk, moreover if you're an unorganized person. You could save yourself a lot of time looking for the specific item you desire and save more from the need to untangle the possible involved chains of other pieces of jewelry.
3. Engraved Mason Jar as Makeup Tools Holder
Utilizing mason jars is a good idea. Aside from its ability to hold your makeup tools like brushes and cotton swabs, you could also reduce the possible unused jars which occupy nearly the entire kitchen racks. For some bonus point, engrave the jars with your initials or simple quotes. It'll look good aesthetically.
4. Seat Warmer
As chilly as a morning could bring, you still want to have a warm and cozy time in front of the mirror, don't you? Have that said time by spreading a throw blanket or cushion on top of the seat to keep it warm? It'll work well with leather, metallic, plastic, wooden, or even woven chair. On top of that, it could double as your unexpected decoration!
5. A Lot of Drawers
Hey trinket collectors, here consider having a lot of drawers to help you organize all your things effortlessly. It could double as a desk frame also. Just don't forget which drawer for which item, though. Or rather, to avoid such unwanted incidents, get each and every one of the drawers labeled so you wouldn't get confused.
6. Shelving Units
While drawers save you from one problem, the shelving unit helps you with the other. It functions perfectly on one of those mornings, where you must get ready in a rush and grab everything in a flash. Because every item is displayed and easily spotted, you save yourself from a lot of trouble.
7. Drawer Organization
If you have a single wide drawer, just getting everything inside won't solve any problem, you see. Use drawer dividers in various lengths and sizes to organize your makeup kits according to their shape or function.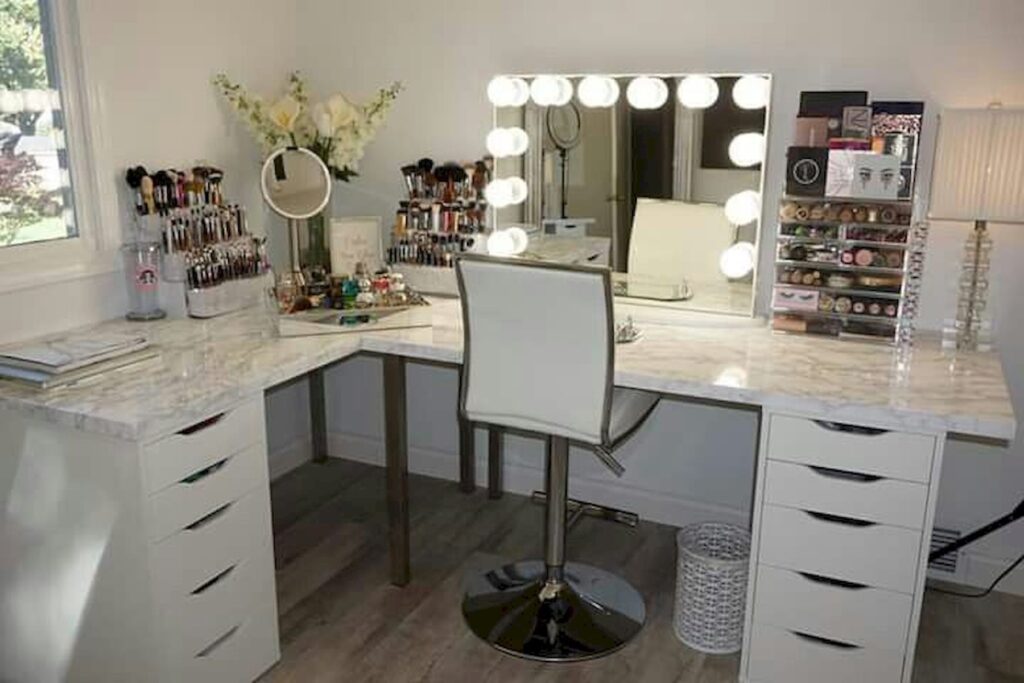 8. Perfume Tray
In order to minimize any clanks and clinks sound produced by your perfume bottles whenever they're being picked up or put down, it's better to arrange them above a tray and place it quietly in the corner. That way is neater and adds appeal.
9. Motivational Decoration
In case you pass a tough day, if not tougher, placing some motivational quote decoration above the makeup desk could relieve you in a way. Besides, that kind of sign is in trend nowadays.
10. Square Frame Decors
For aesthetical points, square frames will serve you properly. Inside, you could fix small photographs, famous logos, or your favorite sayings. Get those cute little frames at your local craft store, or you could be crafty and DIY some using any material possible.
11. Makeup Brush Buckets
The unintended action could be somewhat satisfying, too, you see. These buckets were initially planted holders, some people even use them as kitchen utensils containers. But, taking advantage of them as makeup brush buckets are pretty amusing as well.
12. Desk Organization
The best way to avoid any clutter above your makeup desk is to arrange what's on top of it according to their usability. For example, gather all brushes together in one container and a group of lips makeup kits in another. By doing this, you could say goodbye to messy makeup desk and welcome well-organized one!
13. Circle Mirror Vanity
Vanity with circle mirror could present some softness and relaxed feel to the whole room. It'd be best to replace your usual mirror with it. Besides, it could serve also like the wall decoration.
And that's that. Well, you see now, upgrading makeup room won't cost you a lot of fortune, especially in terms of organizing and decorating it.
Simple actions like DIY-ing lighted mirror, adding some drawers, using drawer dividers, and utilizing mason jars would do a lot. There are still so many makeup room ideas for sure. Don't fail to notice the others, as well. Have a good day!