Uncommon tips for your bathroom tiles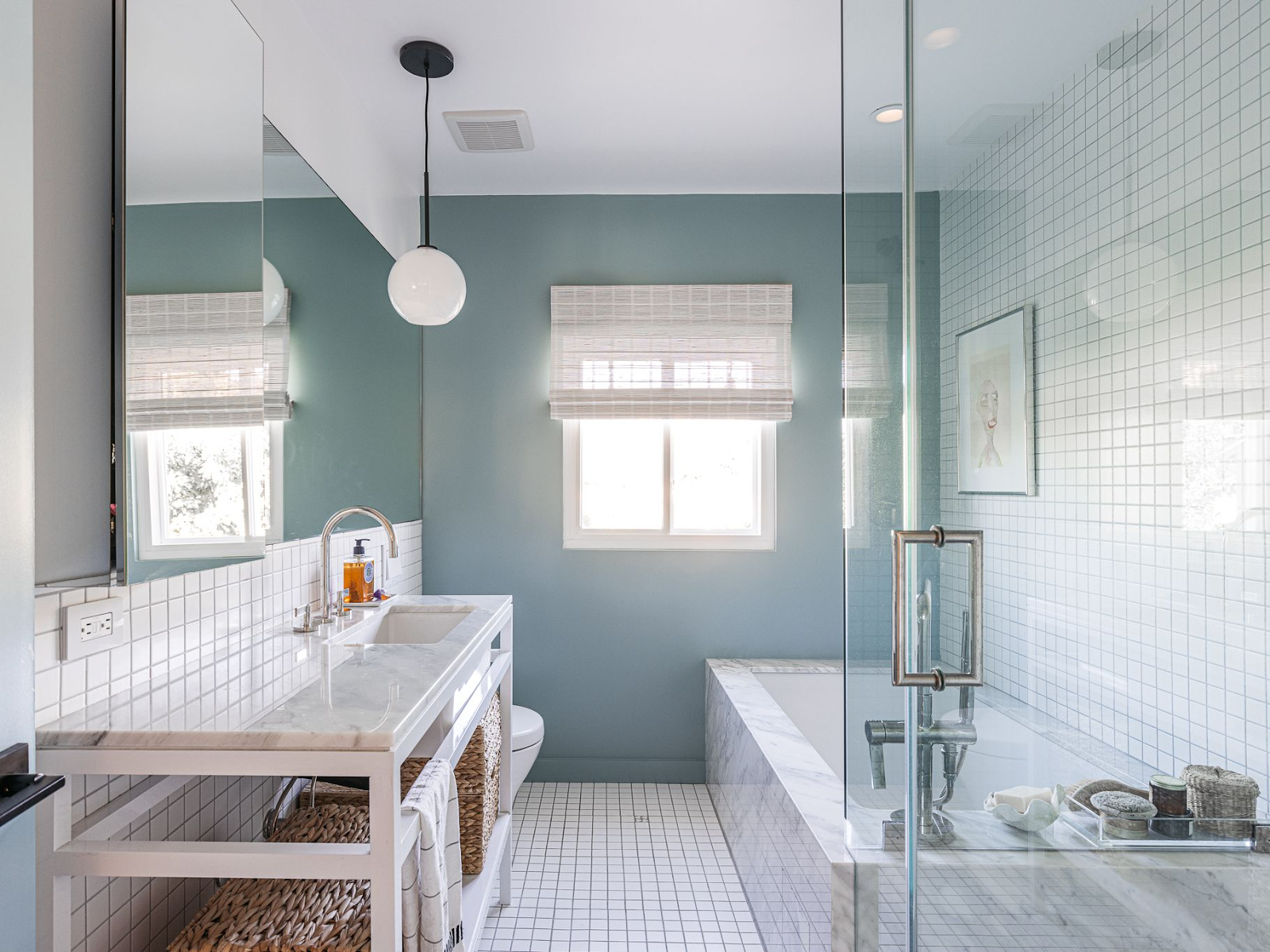 It might be difficult to choose bathroom tiles for a tiny bathroom, whether for the walls or the flooring. But don't worry, we've got lots of advice to help you make the best decision possible. Below, we've compiled our bathroom design expertise to help you figure out which bathroom tiles you'll need. We've got you covered on everything from the optimum tile size for your floor to what will fit with your walls to just add to the sensation of space.
What is the most appropriate tile size for a tiny bathroom?
Myths about little bathroom tiles are debunked!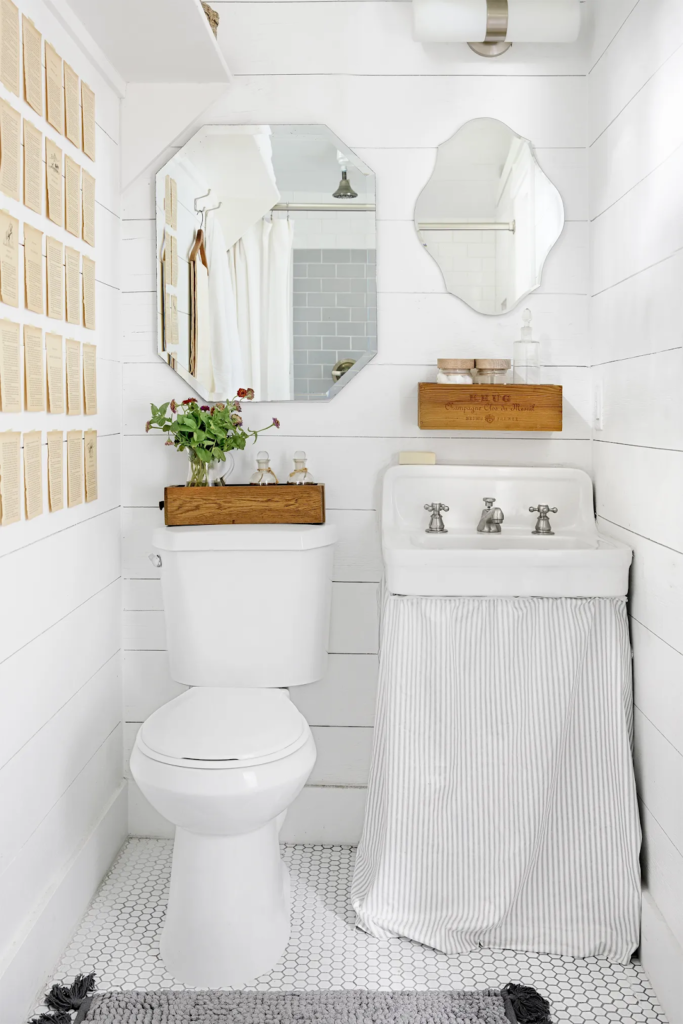 Myth 1: Small tiles should not be used.
Smaller bathroom tiles may be too busy in a small bathroom, but if you've discovered some little bathroom tiles you like, go ahead and use them! Use smaller tiles for smaller spaces (shower, backsplash, alcoves) and larger bathroom tiles for larger areas.
Myth 2: Only light-colored tiles should be used.
Although we all know that lighter colors make a room seem larger and brighter, it doesn't mean you shouldn't use darker colors in smaller areas. As the constraints become less evident, a dark tile may create a feeling of depth and, like a brighter tile, can make a room appear larger.
Myth #3: Stay away from crowded patterns.
While we wouldn't advise going all the way to the ceiling on every wall, patterned bathroom tiles can have a place in a tiny bathroom. Simply add design to one wall, a backsplash, or the whole floor, and leave the rest plain. Click here to read about Using these DIY tips to install your bathroom tiles.
Despite popular belief, tile size is not influenced by the size of the bathroom. A huge tile may really help a tiny bathroom. The walls and floor are less congested with fewer grout lines, and the space seems to be larger.
Using smaller bathroom tiles, such as mosaics, can result in a lot of grout lines, giving the bathroom walls a grid-like look that will make you feel boxed in, making your bathroom seem even smaller.
However, this does not rule out the possibility of using tiny bathroom tiles. If you've fallen in love with some lovely mosaics, you can mix it up a little by using different sized tiles in different zones of your bathroom, with smaller bathroom tiles limited to the showering area, a larger format tile used in the majority of the room, and mosaic tiles in alcoves or recesses (areas you don't expect to feel generously-sized).
It's difficult to know what size tile would work in a tiny bathroom by looking at it on a tile store shelf, so ask for samples (a couple to put out on a sample board if you can) to see them in action.
Are you planning on tiling a bathroom wall yourself? This is perhaps the ideal moment to highlight that we have a really simple step-by-step tutorial to assist you.
Is it important how the tiles are laid out?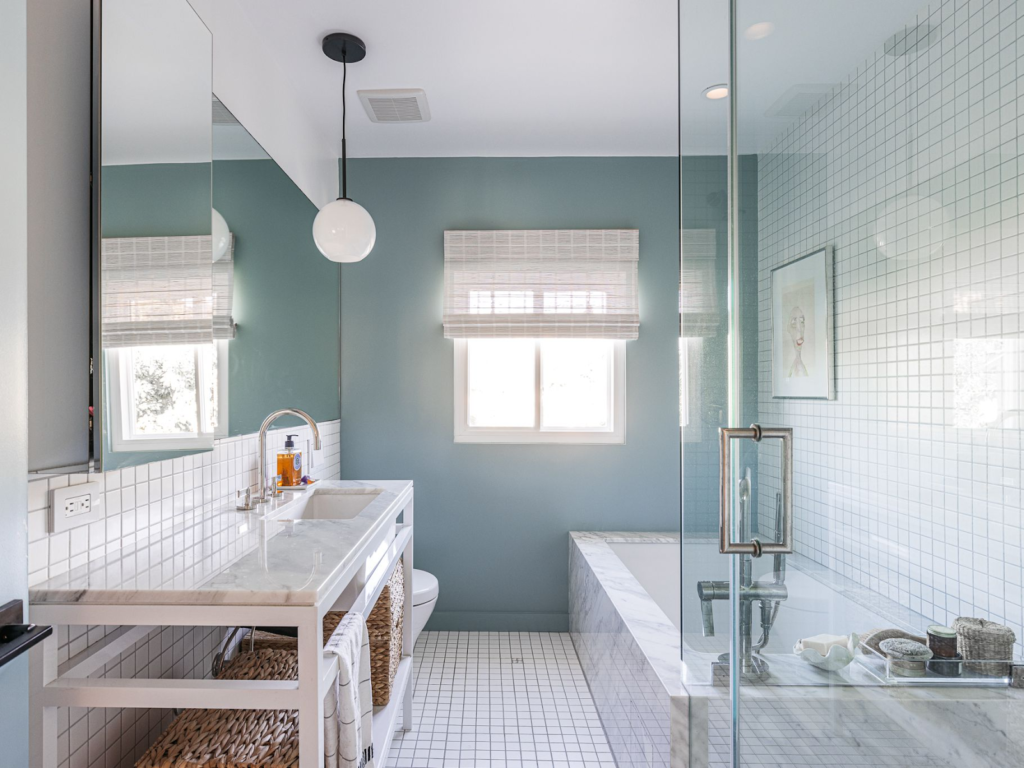 Laying your bathroom tiles in diagonal patterns in tiny bathrooms is a brilliant technique that fools the eye into thinking the space is larger than it is. When you look at conventional squares alternatives, counting them is rather simple, but when you arrange them diagonally, your attention is pulled to the room's longest dimensions. Popular chevron designs are great for this.
If you don't like the look of a diagonal tile pattern, try putting your bathroom tiles in a brick bond. This is a common option for metro bathroom tiles, and it helps to reduce the grid pattern impression, which may emphasize a room's restricted width and height.
Make sure to have a look at our other bathroom-improvement ideas as well.
What color tiles should you choose in a tiny bathroom?
It's a well-known fact that brighter colors make a tiny room seem larger, so keep that in mind when choosing the proper tile size for a small bathroom. Choosing lighter colors for your bathroom tiles, such as white or cream, will assist reflect more light than darker colors.
Another tip for finding the correct bathroom tiles for a tiny bathroom is to go for glossy, metallic, or mother-of-pearl finish tiles, which will improve the area by reflecting light and creating the illusion of larger dimensions.
However, don't be afraid of dark colors; they may be utilized to create a feeling of depth in a room, either across the area or on the walls as a pencil line around the room's breadth, making it seem longer and broader.
For a tiny bathroom, should you go with patterned or plain tiles?
Which one should you pick? Patterned bathroom tiles, particularly busy ones, will undoubtedly make walls seem to advance optically, making a bathroom appear smaller. If you want to add character with patterned tiles, place them below the dado rail height and use simple, light-colored bathroom tiles above. This strategy will drive the eye above and across the space, making it seem bigger and lighter.
In a tiny bathroom, where should you tile?
If a tiny bathroom is tiled from floor to ceiling and wall to wall, it might appear cold and clinical, but you should try for as much ornamental flow as possible to increase the sense of space in the room. To put it another way, if the arrangement of the fixtures and fittings means that there will only be short gaps of painted wall between, instance, a bath backsplash and a basin splashback, it's preferable to tile the whole length of the wall and minimize the tiling levels adjustments than to interrupt the tiling.
If you're tiling the bulk of your walls, choose a bathroom floor tile that isn't too matchy-matchy. Is it possible to have a bathroom with just white bathroom tiles? Strange sensations. Choose a patterned floor tile to contrast with your wall tiles (or vice versa); our portfolio is full of intriguing patterned tiles.
For a tiny bathroom, selecting the proper tile materials is crucial.
Natural stone possibilities for tiny bathroom tiles include travertine, marble, limestone, slate, and granite, each with its unique natural qualities. Slate is ideal for bathrooms because of its low porosity and non-slip riven texture, while marble, travertine, and limestone may be polished to a high sheen for a spectacular finish but need sealing. Check out our guide for additional information on selecting natural stone flooring.
Ceramic and porcelain bathroom tiles are often a cheaper manufactured choice, with a wide selection of finishes to choose from. From stone and even wood-like finishes to brilliant colors, ornamental patterns, high glosses, and raised printing, there's something for everyone. More ideas and suggestions for selecting ceramic and porcelain bathroom tiles may be found on our website.
Mosaics, whether made of stone, glass, or ceramic, provide a touch of elegance to little places, such as behind the basin, and give the impression that they have been lovingly set. They're also available in sheets, making installation a breeze.