13+ Creative Outdoor Bar Ideas for Your Backyard Inspiration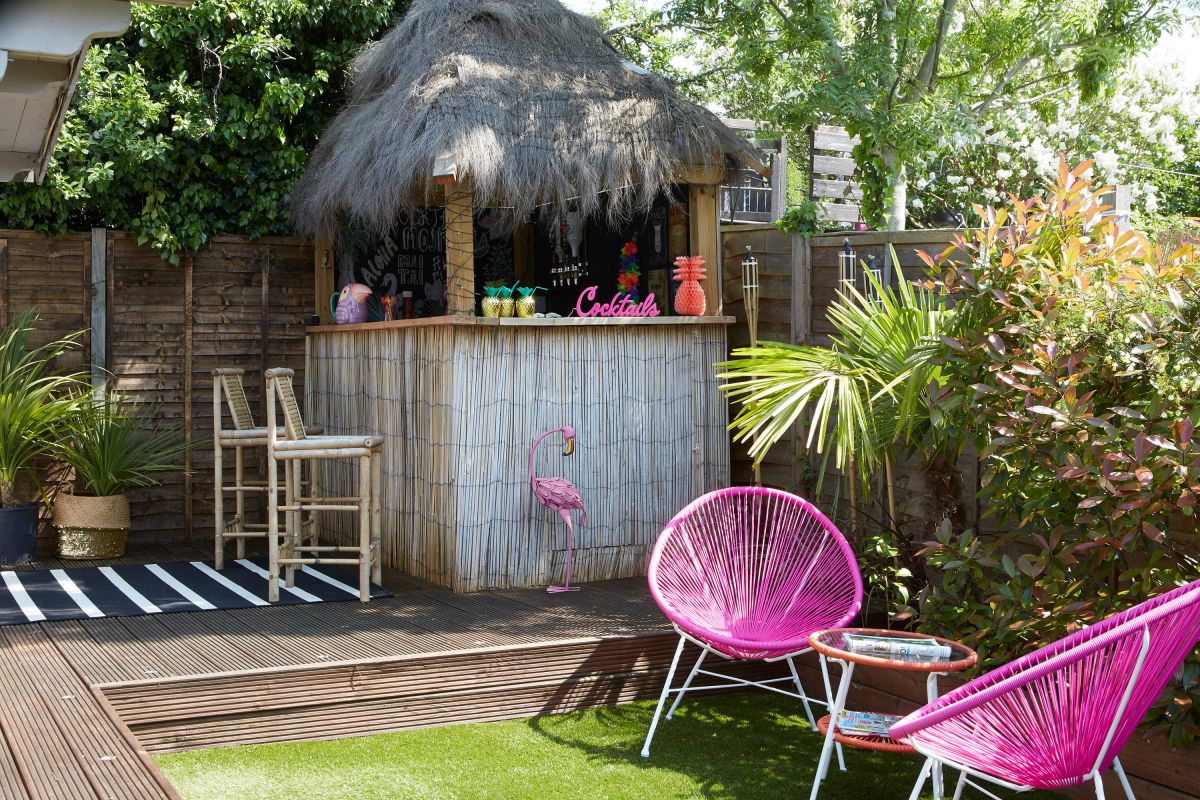 A glass of delectable beverage can be the best companion when you are catching up with your friends. And having an outdoor bar in your backyard can satisfy it. If you are looking for the best one that suits your style, check out these 13 outdoor bar ideas.
1. A Bar by the Pond
A pond is the most conspicuous and beautiful thing in your backyard. Relaxing by the pond can be the best choice to release stress. It would be much better if you are accompanied by a glass of your favorite drink. That is where this bar comes in handy.
This bar is made out of concrete block and some wooden boards for the countertop. The black finish of the blocks complements the mulch perfectly.
2. Bamboo Bar on the Cheap
This bamboo bar is not only attractive but also inexpensive. The yellow bamboos line up as the border of the bar, infusing Japanese style to it. The roof alleviates the glare of the sun nicely so you can still get sufficient light.
To perk the bar up and add the ambiance of a two-seasonal country, some tropical plants are put near the bar.
3. Luxurious Stone Bar
Enjoy a glass of orange juice while watching the sunset brings a romantic ambiance to your backyard. And a luxurious bar would perfect the moment.
Unlike the common bars that are separated from the grill and stove, this bar is built in one line. The design makes the users and cook or bartender stand on the same side.
Read also:
– 10+ Helpful Tips For Creating Bright Living Room Ideas
– 13 Beautiful Makeup Room Ideas, Organizer and Decorating
4. French Country Modern Bar
When you hear French country modern décor, what pops into your head? Is it the classic look? Or is it the gorgeous details? Whatever it is, your backyard deserves a touch of French country modern style.
This bar looks dramatic with two big planters welcoming the guests at both posts. Climbing ivy wraps around the posts and matches the chair frame very well.
5. Garden Bar Ideas
This garden bar might not look fancy, but it is the best place to banter with your friends while slurping your soda. The dim light produced by the light bulbs illuminates the bar nicely.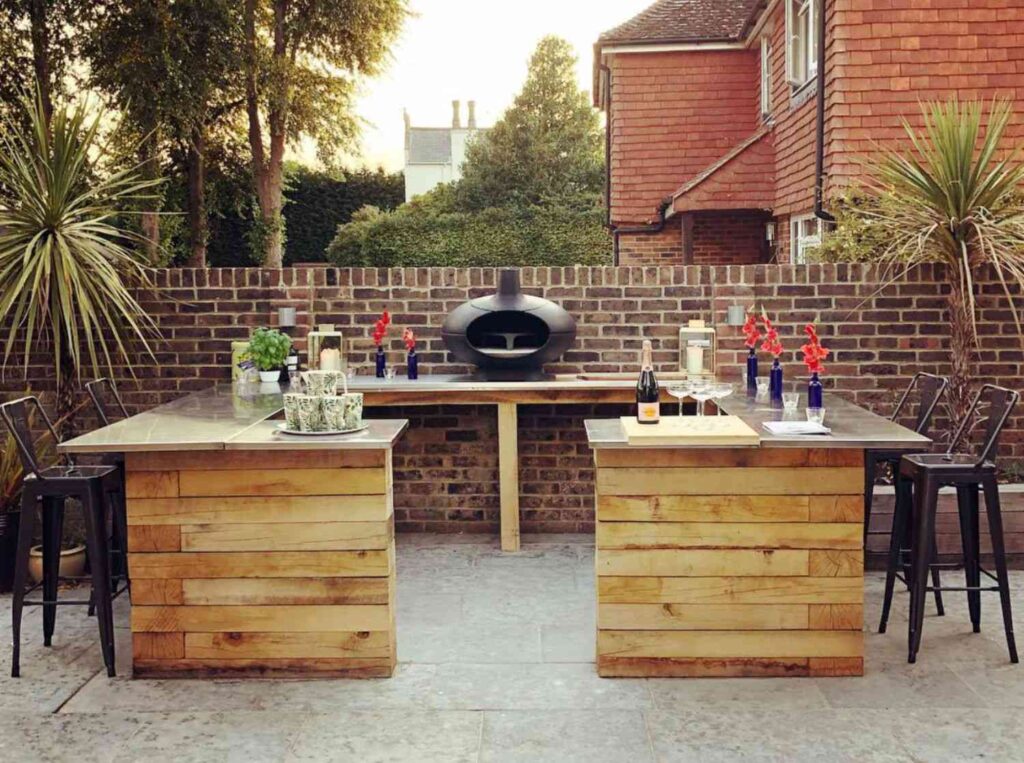 6. Traditional Hut Bar
This traditional hut bar will add a little bit character to your backyard. The bamboo materials will make as if you were in an exclusive bar. And the best part of this bar is the straw roof that embodies the charm of traditional style.
7. A Bar by the Swimming Pool
The best thing of this bar is you can enjoy mouth-watering drinks without leaving the pool. If you feel tired or thirsty, you can just take a break for a couple of minutes, slurp your drink, and continue swimming.
8. A Bar under a Pergola
A real bummer happens when you want to enjoy your "me time" in your outdoor bar, but suddenly it rains.
Fortunately, it will not happen here as this pergola is covered with polycarbonate roof.
The roof prevents the rain or snow from ruining your small party while keeping the sufficient natural light came into the bar.
9. Unique Hanging Bar Chairs
Not only you but also your kids will love this outdoor bar idea. Instead of wooden stools, this bar features hanging bar chairs that look like swings.
They enable your kids to feel the sensation of hanging out in the park. The chairs are not some game at the park, though.
10. Tropical Style Bar
Crisp white and tongue-and-groove paneling are the most common characteristics of a cottage by the beach.
Therefore, this bar idea will conjure up the moment you spent your holiday on a beach. To make it real, plant one coconut tree or two by the bar.
11. Modern Outdoor Bar
This bar looks like a giant cube with curvy edges. The absence of sophisticated details and accessories has made it fits in with modern houses.
Although it lacks details, it can still add an upscale look to your backyard. The design allows you to invite more guests to have a ball.
12. Simple DIY Bar
If you are short on cash but want to make an outdoor bar, it means it is time to hunt potential materials down in your home. If you can find wood pallets, go grab them as they will come in handy.
Once you have got your pallets, sand them, and paint them in natural brown. Assemble those using screws or nails. Finally, add butcher-block for the countertop.
13. Small Black Bar
A great bar is not always a big one. A small bar can make a pretty good place to hang out if you decorate it properly.
This black bar features black granite countertop that makes it lavish. Polycarbonate roof hanging over the bar makes a nice shelter that protects you from the rain.
Now, you know some inspirational outdoor bar ideas that can perfect your weekend with your friends and family. When picking one of these ideas, make sure it adds a personality boost to your backyard. If it does not, you can always tweak it a little bit.