15 Most Popular DIY Home Decor Ideas For Living Room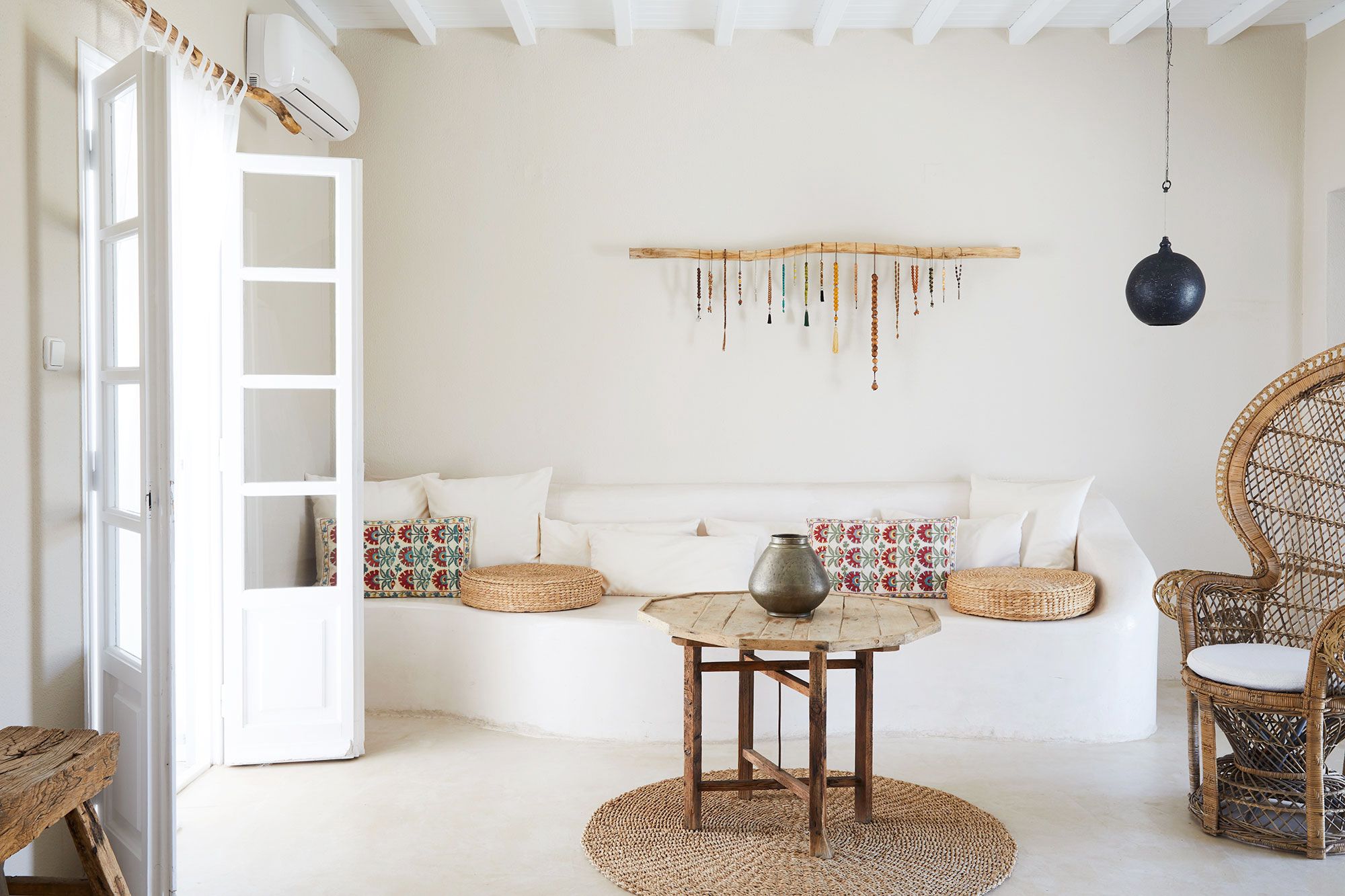 Is it that time of the year when you are constantly looking for newer ways to redecorate and spruce up your homes? If you are looking forward to remodel your house and are not getting any clue as to how to go ahead, take a look at the top 10 DIY home decor ideas that I am going to list down.
However, before we begin, let me say a word or two about DIY decor ideas. By DIY, I mean Do-it-yourself decorating that is the newest mantra these days with many people taking the reins in their own hands to decorate their homes. These DIY decor ideas are easy to implement and can do a total makeover of your living areas. Take a look:
1. Eggshell candle centerpiece home decor idea
One very easy way to spruce up your living area is to make use of eggs and take the shells to transform them into cool and awesome looking egg candles.
This is a cheap option and everyone can do it quite effortlessly at home. The colorful egg candles in the picture look cool and are arranged together on a tray. These can be placed on a console table or inside cabinets.
2. Tennis ball key holder home decor idea
Seen below is a cool key holder made out of an old tennis ball. If you have unused or worn out balls, as in this case, you can transform these into holders for keeping various objects like pencils, tissues and keys of course! This is an inexpensive way to add some style to your living area.
3. Fall leaves and dry sprigs home decor idea
There cannot be any better and more creative way to decorate your entrance walls than doing it with actual dried up fall winter leaves and dry sprigs of wood to lend an elegant look to your home. The wall decoration seen in the image can be easily implemented at home with real leaves that one can collect at the backyard of his or her house.
4. Painted bottle vase DIY home decor idea
A very creative way to add some color to your living room is to paint a few bottles of coke or hard liquor and arrange flowers inside these. Empty bottles of various sizes can be best utilized when converted into colorful vases like the one in the picture. The vase is painted with colors of various shades and spruces up any nook or corner.
5. Ice cream stick wall art home decor idea
If you are someone who has a fetish for collecting ice creams sticks, here is one word of advice – Please do not throw these sticks into the garbage bin!
Instead put these to use and make motifs on the wall with these sticks to bring some change to your living room. The owner of the house has made nice designs on the wall using ice cream sticks that has totally changed the look of the room.
6. Driftwood DIY home decor idea
If you happen to chance upon a floating driftwood by the beach side, take it home and wash it to decorate your walls with it. Yes, driftwood can be used as planks on walls to place various items of decoration. These are available free of cost and look awesome.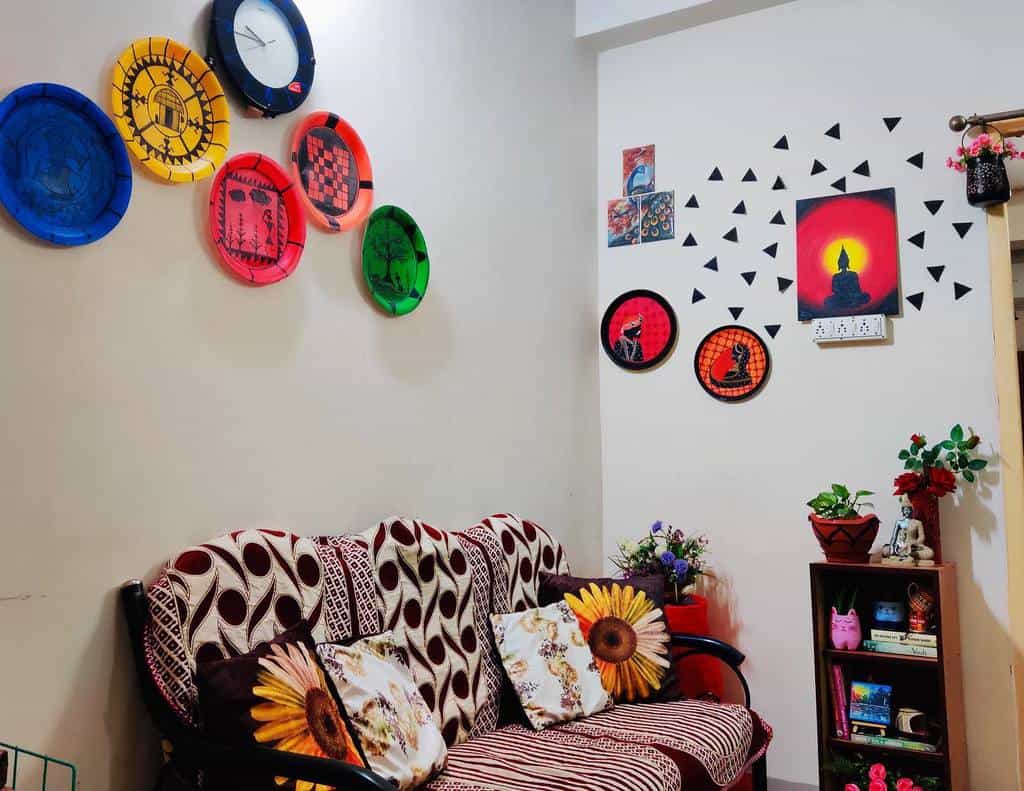 7. Beautiful picture collage home decor idea
Another way to decorate your living room is to make a collage of different shaped pictures in any color and stick it on the wall besides the sofa as can be seen below. One can either stick these directly on the wall or can also put pictures inside a big wooden frame that can be plastered.
8. Butterfly wall art decor idea
The wall art as seen below looks amazing and the best part about it is that you can make this art work at home! Yes, you would need black chart paper, scissor and glue.
Now, cut the papers in shapes of butterflies that you desire. Stick these together in any order on the wall besides the sitting or any place that you wish. This DIY idea is affordable and one can easily do this at home.
9. Cool fabric pillow home decor idea
Pillows or cushions can drastically change the look of your room with their vibrant colors and textures. Seen in the image are two beautiful pillows, the fabric of which has been cut out of old bed sheets that are no longer in use.
Most of us have unused or old bed covers with colorful motifs that can be used to design pillow covers instead of throwing away.
10. DIY porcelain plate decor idea
Unused or old plates, like the ones seen below can be used efficiently to decorate a vacant wall. The white plates of varying shapes have been spray painted with blue and pink colours that look extremely attractive.
The plates are then arranged on the wall in a roundel order. The whole wall art can be done creatively using old objects that are of no use otherwise.
Do it yourself decorating is not only convenient but also saves one a lot of money and time. There are many ideas for home decorations that need not involve loads of money. One needs to have a good eye for finding out things that could be used for ornamentation of rooms. Take the help of the top 10 DIY home decor ideas listed above and make some innovative changes to your living rooms.